Street Legal Race Car Ordering
---
What are they? American Racecar (ARC) set out to create a unique product that resembles a NASCAR styled vehicle, but can be driven on the street. An actual racecar is built specifically to work under harsh conditions in a race environment, but is very uncomfortable and impractical to drive on the street. What we at American Racecar have done is to adapt the car to be more user friendly in street applications but still give the appearance of a race car right off of the rack. The end result is an awesome looking car that brings back the feeling of an old school hot rod but has the visual impact businesses are looking for to advertise their Company and products, or an enthusiast looks for in driving a unique vehicle!
The following items highlight some of the components of our cars:
Body: ARC can create a new body, or modify an existing race car body. Race car bodies are typically sheet metal with paint or a wrap. ARC can a) Modify an existing sheet metal body, b) start with a fiberglass body used for show car purposes, or c) modify an existing vehicle, such as the 1969 Dodge pickup pictured to make it look as if it was built to be a race vehicle.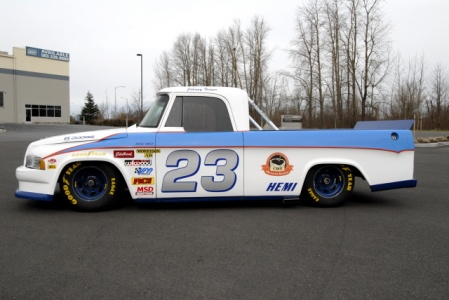 This is a 1969 Dodge ½ ton with a 2002 racing truck frontend and hood.
Chassis: ARC uses tube chassis similar to a NASCAR Cup chassis. Wheelbase length is usually 110 inches. Full roll cages are included which means have a great time climbing through the window! We can create opening doors, but it is more of an experience to climb in, and not all that difficult.
Motor and drive train: A racing engine runs on racing gas and usually has a complex oiling system designed to keep the motor running at 9000 RPM for 500 miles. This will not be practical for street usage, and the motors are very expensive. ARC uses street engines that look great, sound great, and run on pump gas. We have installed both carbureted motors and fuel injected motors. Attached is a picture of a Dodge fuel injected 5.7 Hemi and a carbureted Chevrolet 355. Automatics or manual 5 speeds are available. The exact transmission will be matched to the motor selected.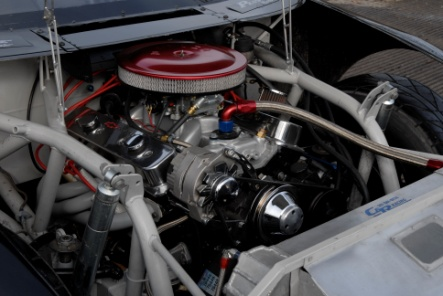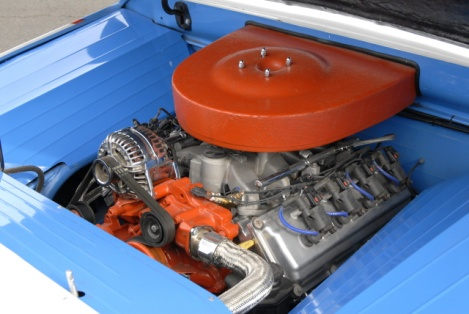 Suspension: A variety of suspension options are available. A NASCAR styled suspension will have heavy duty racing springs and shocks. The steering can either be a rack and pinion or a Cup styled gear box. All are available in power steering.
Both the front and rear suspension
was formerly on a Sterling Marlin Cup car.
Interior: A typical race car has seats, a 5 point racing harness, removable steering wheel, and not much else. This creates a noisy and smelly driving experience. We add padding and basic black carpet to cut down on the noise, and can add sound deadener and heat shields to further improve the driving experience without taking away from the look of the vehicle.
| | | |
| --- | --- | --- |
| 1999 Chevrolet Monte Carlo | | |
Licensing and emissions: The purchaser is responsible to verify the State DMV requirements to license the vehicle. A new vehicle will be licensed as a 2011 model, where as an existing vehicle will be licensed as the year the vehicle was built. Emission regulations on a National level went into effect in 1975. Some States require that a 2011 vehicle meet 2011 emission requirements, which we can do. Other States either have no requirements for custom built vehicles, and others yet require the emissions only to meet the emissions requirements of the year of the motor.
As far as other requirements to license a custom vehicle, ARC installs a horn, lights, brights, brake lights, marker, and turn signals. A wiper can be installed, but does not come standard. The standard glass is Lexan, and glass windshields and side windows can be ordered as an extra. There is no door glass. Once again, the purchaser is responsible for verification with the licensing State DMV regarding the licensing requirements as they relate to the vehicles build.
Ordering and pricing: Depending on order backlogs, a car build will take 3-5 months. Once a build sheet is agreed on, a deposit will be required to order parts and get started! Of course change orders may extend the build time, but build process can be fun as we design and make progress on constructing your vehicle. Typical pricing begins at $50k and goes up depending on the horsepower, paint scheme, and other requests. American Racecar Products, Inc. is not a licensee of NASCAR or any of the race teams or drivers. If a request is made to create a replica car of a particular driver, ARC will negotiate with the race team at an additional cost to replicate any trademarked numbers or logos.
To get started, email Darrell@americanracecar.com ,or call 888-493-4076. Thanks for checking out the site.